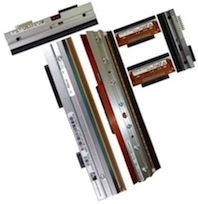 Thermal transfer ribbon: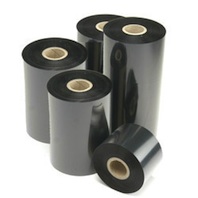 Thermal transfer printing from barcodes, text and other data with a labelprinter is only possible when used thermal transfer ribbon. We have two main groups of ribbons called: the flathead range and the near-edge range.
In the flathead range we have roughly 3 types of ribbon avaiable (wax, wax/resin. resin). Every type has again different quality's with names like, standard, economical, universal, premium, highspeed etc.
In the near-edge range we have only two types available: Wax/resin and Resin.
Wax ribbons: the standard wax ribbons are the most economical ribbons. This ribbons have a low melting temperature which requirs low energy. However the quality is not for every application suitable. Wax ribbons are mainly used to print on coated and uncoated (vellum) paper for retail, shipping and warehousing.
Wax/resin ribbons: The wax/resin quality is mainly used for printing on PE, vinyl or other smooth surfaces. The wax/resin quality is smudge proof and mainly used in automotive, logistics, flexible packaging and retail.
Resin ribbons: The resin quality is mainly used for printing on plastic materials like PE, PP, vinyl, Polyester etc. Resin ribbons have a high melting temperature which requires high energy. This ribbon is the most expensive ribbon but the quality is durability, and also the print is heatresistant, smudge, scratch, steam, UV and chemicalproof. This ribbon is used for medical application, textile or garment labels, automotive labels, and flexible packaging or outdoor applications.
All types and quality's of thermal tranfer ribbons are available in different colours and cores, with coated side in, or coated side out. We can also supply thermal transfer ribbond for thermaltransfer overprinters (TTO) like, Smartdate, Markem, Zodiac, Openflex, Dataflex, Valentin etc.
To have a excellent printresuIt it's very important to have the right ribbon in combination with the right label, but also its important to have the right printhead settings and mechanical pressure. With our experience we can help you and we will have for every application and industry the wright solution!
For questions or quotations about thermal transfer ribbons? Call +31 (0)73-6896884 or email info@thermal-printheads.eu